Orchid City Vietnam
the delta

High-tech agriculture & water purification
Diverse and fresh locally grown food
Rural job creation & de-urbanization
Built / Open: 21 ha / 1,453 ha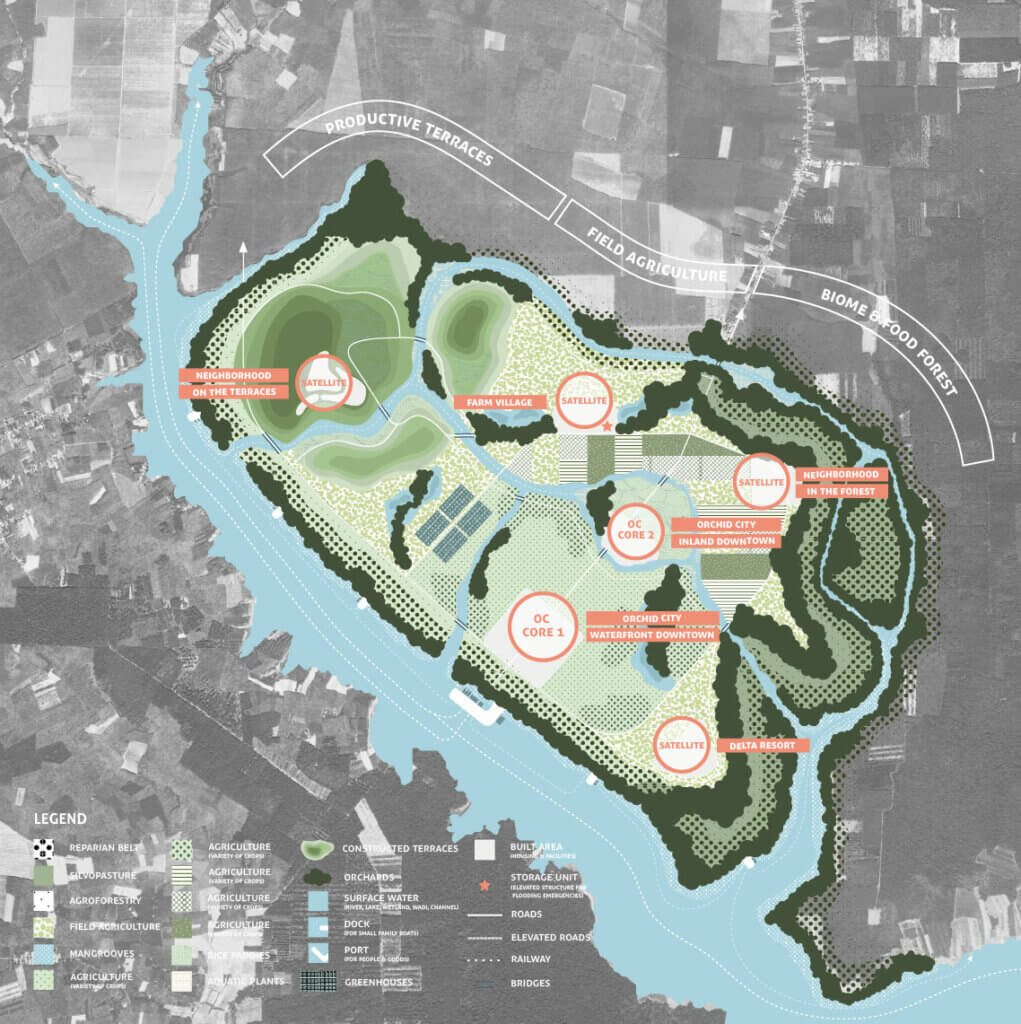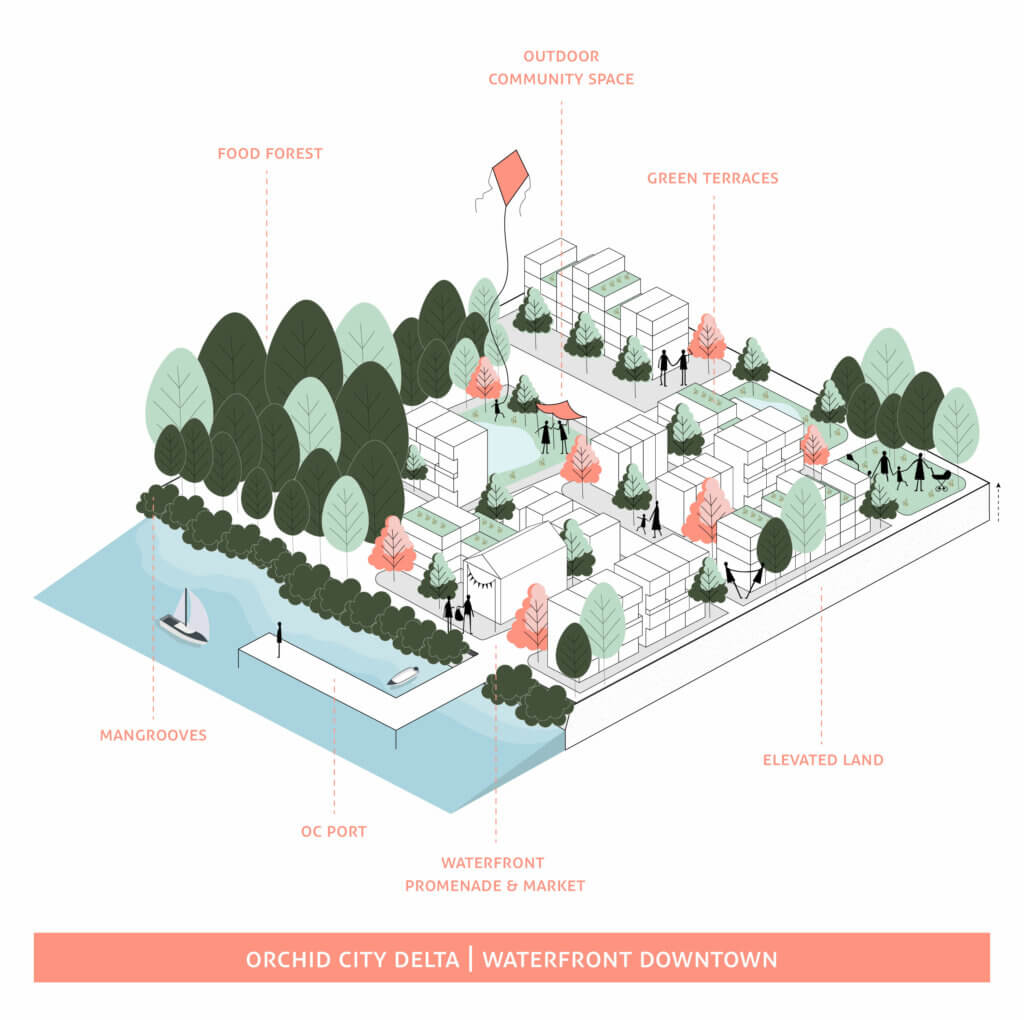 ORCHID CITY WATERFRONT DOWNTOWN
The downtown of the Delta is organized in two cores: the inland and the waterfront. The latter is the biggest area of denser urban features within the Delta. It is comprised of mixed apartment buildings with a variety of typologies, and a series of facilities for the entire city, as well as public areas and spaces for events.

The entire downtown is on elevated land, protected by mangroves along the waterfront. The marina hosts both goods and tourists and it connects to a series of smaller docks along the waterfront.
Diverse apartment buildings & row houses
Offices & co-working spaces

Schools and healthcare center

Restaurants, shops and entertainment
"When eating fruit, remember who planted the tree; when drinking clear water, remember who dug the well."
– Vietnamese proverb
NEIGHBOuRHOOD ON THE TERRACES
The terraces are located on the north-west of Orchid City, The Delta. While intended as a flood-proof measure, the terraces are also cultivated with a variety of crops, including rice paddies and orchards. Villas and semi-detached houses with gardens populate the top parts of the terraces, while villas on stilts are located on the lowest parts and nearby the waterfront, where the fishing pond is also located.
Villas and semi-detached houses on stilts
Elevated flood-proof & productive terraces
Elevated infrastructure & food-storage units for emergency situations
Aquatic vegetation, orchards & rice paddies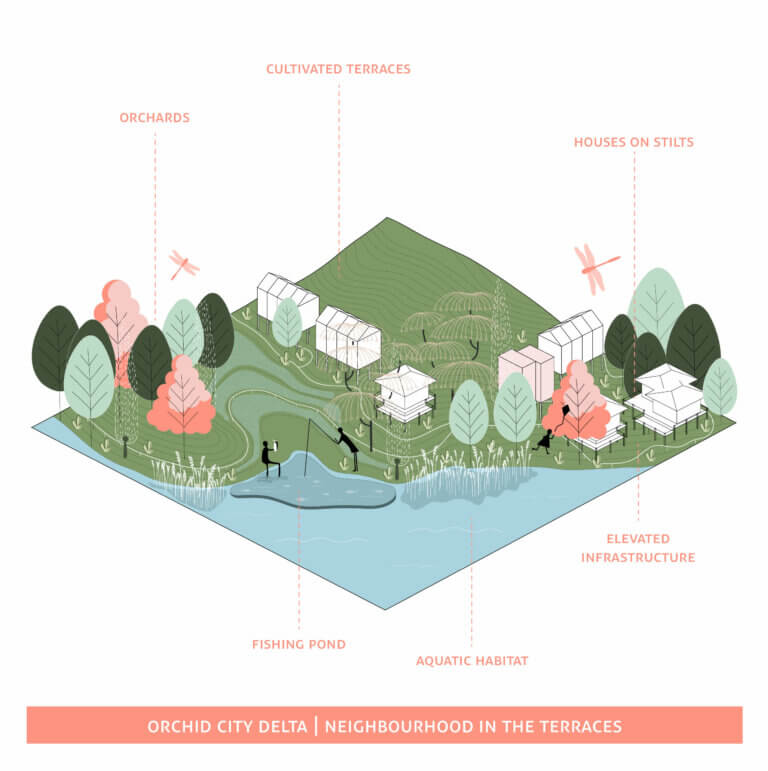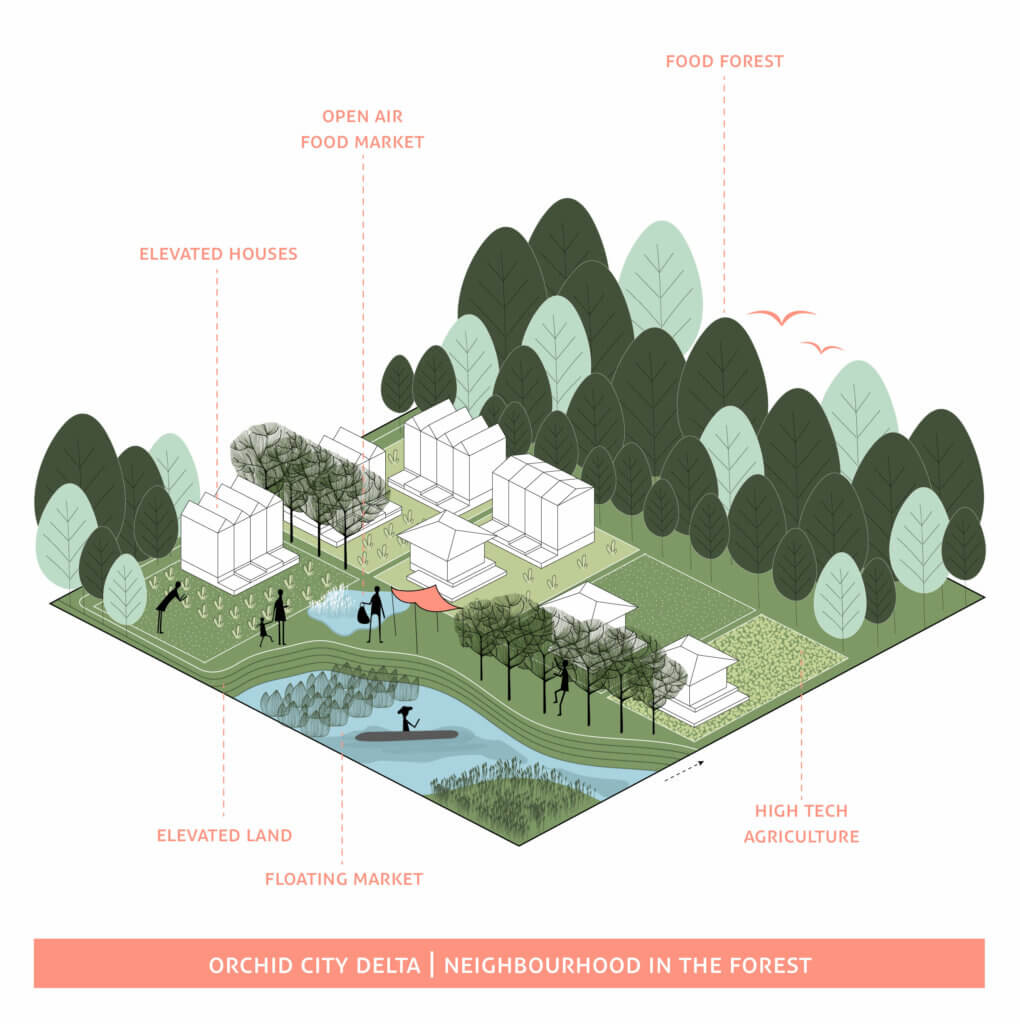 neighbourhood in the forest

The entire waterfront on the east of the site is surrounded by a food forest, which is an extent to the riparian belt. The city grows its own food within this area, as well as on the open field agriculture and orchards, which are located in inland. This area is elevated in regard to the river crossing nearby, which hosts a floating market. Elevated semi-detached and detached houses with private productive lots and gardens, and an open air food market populate this part of Orchid City.
Elevated row houses, semi-detached & detached houses
High-tech agriculture & greenhouses
Food forest and silvopasture
Open field agriculture and orchards
Floating market and open air food market
Elevated land nearby the river